DISCOVER WHAT LEVERSEDGE CAN DO FOR YOU…

HYTERA PD505 PORTABLE TWO-WAY RADIO
Light and sleek, this radio is easy to use in analogue and digital modes. It has a compact size and is capable of reaching long communication distance which makes it ideal for a school or university campus. With all the benefits of digital and it's user friendly design, yet affordable, PD505 is particularly suitable for a cost effective migration to digital.
Improved use of the audio frequency spectrum
Thanks to the TDMA process, the PD505 enables you to assign the available bandwidth with double the channel capacity. This has a clear mitigating effect on the increasing spectrum scarcity encountered when using DMR radio systems.
Ergonomic Design
The PD505 handheld radio is easy to operate and highly reliable, which is indispensable in critical situations.
Individual Button Design
The two rotary buttons of the radio transceiver are separated by the antenna. This design prevents operating errors.
Reliability
The PD505 meets all requirements of the open DMR ETSI standard (ETSI-TS 102 361-1, -2, -3), the MIL810-C/D/E/F/G standard and degree of protection IP54. Thus excellent features are offered even under harsh operating conditions.
Powerful Battery
Compared to the FDMA process in analog mode, with TDMA the battery service life can be improved by approximately 40% when using DMR.
Excellent Voice Quality
With the combined application of the narrow band codec and digital technologies for error correction, the PD505 ensures excellent voice quality even in loud environments and in peripheral areas of radio coverage.
Upgradeable Software
The upgradeable software makes the use of new features possible. By altering the firmware-software, other digital and analog operating modes can be enabled, without the need for purchasing a new radio device.
Additional Features
Available with firmware V7.06.01.006 and above:
Radio Registration Service (RRS)
Emergency Calls (Analogue and Digital)
Lone Worker
Single Site XPT (available with optional XPT Access License)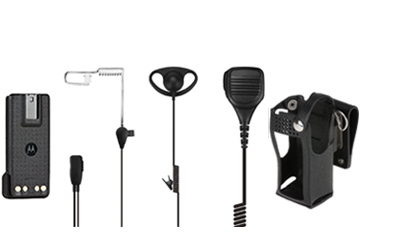 ACCESSORIES
Leversedge stock a comprehensive range of genuine manufacturer accessories for this radio, including:
> Antenna
> Batteries
> Carrying Solutions
> Chargers & Conditioners
> Ear Microphones
> Miscellaneous Accessories
FOR FURTHER INFORMATION CONTACT OUR SALES TEAM ON:
+44 (0)116 262 6166
Alternatively you can complete the contact form below.
SIGN UP TO OUR MAILING LIST