DISCOVER WHAT LEVERSEDGE CAN DO FOR YOU…

MOTOTRBO™ DP2000 PORTABLE TWO-WAY RADIO
Monitoring supply needs on a manufacturing line or reporting an incident on a construction site, how do you keep employees connected and safe? MOTOTRBO digital radio solutions can help by putting the power of digital communications within reach. Versatile and powerful, MOTOTRBO combines the best of two-way radio functionality with the latest digital technology. DP2000 Series radios offer best-in-class audio in a scalable solution to meet your communication needs. Because they are also analogue interoperable, you can make the transition to digital at your own pace and budget. The DP2000 Series radios can remaster your workplace and the way people collaborate to help you achieve even greater productivity, safety and cost-effectiveness.
Available in UHF and VHF frequency bands, the DP2400 is a non-display model that features 16-channel capacity, three programmable buttons and IP55 specifications for water protection. The DP2600 features a 2-line display and limited keypad for easy menu navigation with 128-channel capacity, four programmable buttons and also IP55 specifications for water protection.
Industry Leading Audio
When it comes to exceptional audio clarity, the quality of digital can't be denied. DP2000 Series portables deliver digital quality throughout your coverage area plus unique features to help your employees hear and speak clearly, wherever they work. With Intelligent Audio, the radio volume automatically adjusts to compensate for background noise so workers don't have to adjust their radio volume to avoid missing a call in loud situations or disturbing others when they move into quiet places.
Basic (standard) or Enhanced Privacy (option)
Built-in scrambling for increased security.
Rugged Design
Tightly sealed against wind and dust with a water protection rating of IP55.
Transmit Interrupt (option)
Enables a user to interrupt another radio conversation to deliver critical communication exactly when and where it's needed.
Analogue and Digital Interoperability
Operates in both analogue and digital modes. Features such as dynamic mixed mode repeater streamline automatic switching between analogue and digital calls – meaning you only need one repeater to operate both modes.
IP Site Connect
A digital solution that uses an IP network (such as the internet) to extend the voice and data capabilities of MOTOTRBO. Use it to link up to 15 sites for communication among geographically dispersed locations, to create wide area coverage or enhance coverage at a single site with physical barriers.
Capacity Plus (option)
Single-site digital trunking system that maximizes the capacity of your MOTOTRBO system. Use it to enable a high volume of voice and data communication for over a thousand users at a single site without adding new frequencies.
Linked Capacity Plus (option)
Linked Capacity Plus is a multi-site digital trunking system configuration for the MOTOTRBO platform. It leverages the high capacity of Capacity Plus, with the wide area coverage capabilities of IP Site Connect to keep your staff at various locations connected with an affordable high capacity, wide area trunking solution.
Service from the Start
Service from the Start is the industry-leading service offering provided by Motorola to ensure your radios are protected against normal wear and tear, accidental breakage, and more. Each package comprises of efficient turnaround times, expert telephone technical support and access to the latest software releases; all backed by our global infrastructure, highly qualified support technicians and certified repair facilities.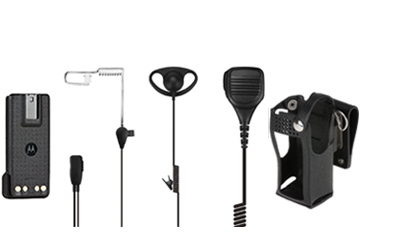 ACCESSORIES
Leversedge stock a comprehensive range of genuine manufacturer accessories for this radio, including:
> Antenna
> Batteries
> Carrying Solutions
> Chargers & Conditioners
> Ear Microphones
> Miscellaneous Accessories
FOR FURTHER INFORMATION CONTACT OUR SALES TEAM ON:
+44 (0)116 262 6166
Alternatively you can complete the contact form below.
SIGN UP TO OUR MAILING LIST