DISCOVER WHAT LEVERSEDGE CAN DO FOR YOU…

MOTOTRBO™ DP1400 PORTABLE TWO-WAY RADIO
Simple and affordable, the DP1400 portable two-way analogue/digital radio connects your workforce efficiently – and has the flexibility to grow with your business. By combining the best of two-way radio functionality with the latest analogue and digital technology, the DP1400 is perfect for the everyday user who wants to stay connected. Fully compatible with the MOTOTRBO family of radios, the DP1400 has superior audio quality, outstanding coverage, long-lasting battery life and more.
You can also choose the analogue-only DP1400 model, which gives you great voice communications today, with a path to crisp and clear digital voice communications when you're ready. All you will need is a simple software upgrade.
Whatever your needs, the DP1400 provides a simple, reliable, cost-effective communication solution to help work crews connect, coordinate and collaborate to get the job done right. Improve the efficiency of your operation with easy-to-use voice communication that's right for you.
Analogue / Digital
Get all the benefits of digital, including better voice quality, better range and better battery life – but retain compatibility with your existing radio fleet. The freedom to migrate to the latest technology at your own pace.
Transmit Interrupt Capability (decode only)
Enables a supervisor to interrupt a DP1400 user to deliver critical communication exactly when and where it's needed.
Compatible with Radio Management Suite
Program your radios quickly and efficiently, with the Radio Management tool. Radios can be programmed in batches to a standardised template, giving error-free results and optimised performance.
Dual Capacity Direct Mode
Utilise the power of the 2-slot TDMA DMR standard to double the capacity of your 12.5 kHz channel – without the need for a repeater.
IP54 Rated
Dustproof and splashproof, so you can work with confidence in challenging environments.
Service from the Start
Service from the Start is the industry-leading service offering provided by Motorola to ensure your radios are protected against normal wear and tear, accidental breakage, and more. Each package comprises of efficient turnaround times, expert telephone technical support and access to the latest software releases; all backed by our global infrastructure, highly qualified support technicians and certified repair facilities.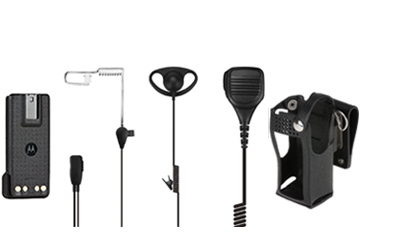 ACCESSORIES
Leversedge stock a comprehensive range of genuine manufacturer accessories for this radio, including:
> Antenna
> Batteries
> Carrying Solutions
> Chargers & Conditioners
> Ear Microphones
> Miscellaneous Accessories
FOR FURTHER INFORMATION CONTACT OUR SALES TEAM ON:
+44 (0)116 262 6166
Alternatively you can complete the contact form below.
SIGN UP TO OUR MAILING LIST