DISCOVER WHAT LEVERSEDGE CAN DO FOR YOU…

KENWOOD TK-3501 PMR446
LICENSE FREE BUSINESS TWO-WAY RADIO
Kenwood's TK-3501 hand-portable is designed for 'Simplicity', making it the ideal license-free radio for use by everybody, from beginners to experts.
The TK-3501 is the natural successor to the legendary ProTalk TK-3301 and is sure to win a strong base of dedicated users quickly.
Simple and Easy-to-use – No license Required
This license-free two-way radio comes with a 1130mAh Li-Ion rechargeable battery, battery charger and belt clip; there's no need to buy extra accessories for basic operation. It is ready to use right away.
Compact, Reliable and Robust
Users will appreciate just how light (210g) this radio is. Yet, there is no compromise on build integrity; it meets or exceeds the IP54 dust and water intrusion standards as well as MIL-STD 810 C, D, E, F & G environmental standards, making it tough enough for outdoor use in any weather.
Enhanced Audio Quality
The powerful BTL amplifier and large size speaker deliver 1.5 watt audio output, providing clear and crisp audio.
Built-in Self Programming
Users can change several settings, channel frequency, QT tone or DQT code without using FPU.
Extended Talk Range
With the receiver's RX circuit optimised to the fixed antenna, talk range can now extend up to 9km (in open locations).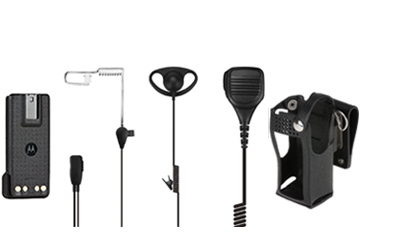 ACCESSORIES
Leversedge stock a comprehensive range of genuine manufacturer accessories for this radio, including:
> Antenna
> Batteries
> Carrying Solutions
> Chargers & Conditioners
> Ear Microphones
> Miscellaneous Accessories
FOR FURTHER INFORMATION CONTACT OUR SALES TEAM ON:
+44 (0)116 262 6166
Alternatively you can complete the contact form below.
SIGN UP TO OUR MAILING LIST