DISCOVER WHAT LEVERSEDGE CAN DO FOR YOU…

HYTERA TM800 MOBILE TWO-WAY RADIO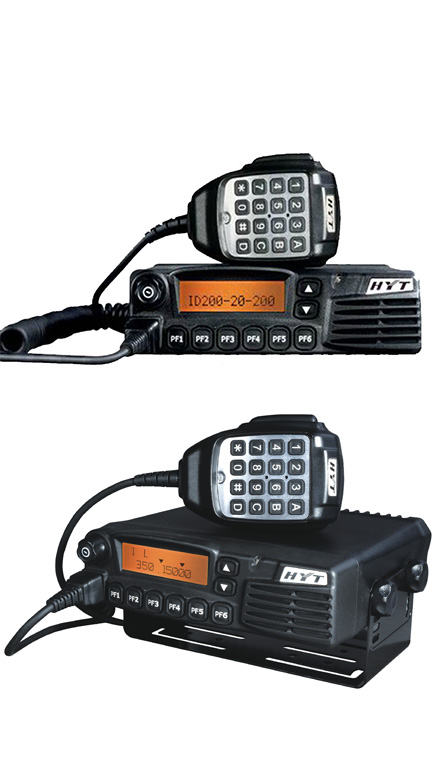 Perfect for growing organisations, the flexible TM-800 Professional mobile radio can readily expand to meet fast changing business needs. Hytera's voice compander audio enhancement and a powerful 5W internal or 13W external speaker ensure superb clear, crisp sound, even in noisy environments. The versatility of the TM-800 mobile helps you keep productivity and efficiency at its highest, no matter how fast your business grows.
Wide-band Coverage
Wide-band coverage includes: VHF: 136-174MHz, UHF: 400-470MHz, 450-512MHz, 480-526MHz, 440-490MHz, 350-400MHz, 450-520 MHz, users have the flexibility to select their frequency for use in their respective work environment.
Powerful Audio
HYT's voice compander audio enhancement and a powerful 5W internal or 13W external speaker ensure superb clear, crisp sound, even in noisy environments.
Remote Mount Control Head
The remote mount control head can be mounted on the dashboard without the radio chassis, ideal when space is constraint.
Versatile Signalling
The TM-800 mobile is packed with a full range of signalling capabilities, including CTCSS, CDCSS, DTMF Encode & Decode, 2-Tone, 5-Tone, HYT exclusive HDC2400TM* and HDC1200* Signalling The HDC2400TM signalling is exclusive to HYT, and contributes to the system to achieve features including Automatic Number Identification, Individual Call, Group Call, Broadcast, Radio Check, Safety Check, Remote Monitor, Auto Contact, DOS (Data Operated Squelch), Stun & Revive, Short Message and Data Transmission. The HDC1200 Signalling is compatible with MDC1200, and allows functions including PTT ID, Emergency, Remote Monitor, DOS (Data Operated Squelch), Radio Check, Stun & Revive, Individual Call, Group Call and Broadcast.
*Only for 2-Tone version.
Built-in Scrambler
Maintaining private and secure communications is increasingly important, with potentially sensitive information flowing back and forth. The TM-800's scrambler feature provides enhanced security for your important public safety and private security communications.
Auxiliary Port & Software Upgradeable
Three auxiliary ports are reserved for second development: GPS, Data Transmission and repeater, etc.
Software Upgradeable allows new functions add-in to accommodate future updates, without opening the unit.
512 Channels and Dynamic Regrouping
High 512-channel operating capacity on the TM-800 enables the mobiles to accommodate a vast number of users and work groups concurrently. Each zone or channel can be assigned with a customised name for easy identification. Dynamic regrouping provides greater flexibility in organising different work groups.
Automatic Number Identification (ANI)
When the mobile radio receives HDC1200* or HDC2400TM* signalling, ID or alias of the transmitter can be displayed. Your radio supports a selective call list containing up to 200 items of ID and Alias.
Short Message
User can edit messages via keypad microphone, or send pre-defined messages.
Messages can be sent between radios or via the control centre.
Public Address (PA)
The PA feature feeds MIC audio through a powerful external PA amplifier, and outputs through external speaker, offering robust audio clarity in harsh, noisy environments.
Dot Matrix Alphanumeric LCD
The large alphanumeric display with user-friendly icons helps make information easy to understand at a glance. The display is switchable among channel number/alias, zone number/alias, frequency, short message, DTMF dial number, and menu options.
The display illuminations also provide the visibility to operate your radio in the darkness.
Multi-language Capabilities
The display can be dealer customised for indication in languages other than English.
8 Programmable Backlight Keys
Provides immediate and easy access with your favourite features.
Stun/Revive
Provides enhanced security to prevent unauthorised use of lost or rental units, by remote inhibition of either transmit or transmit/receive. A stunned radio can be remotely revived upon the revive code is received.
Horn Alert
Upon receiving DTMF, 2-Tone,5-Tone, HDC2400TM*, or HDC1200* signalling, the TM-800 mobile radio can remote control other electronic equipments on vehicle.
Versatile Scan
Three scan modes are available: single zone scan, multiple zone scan and list zone scan. Achievable functions include add/delete scan channel, temporarily close priority channel, temporarily delete nuisance channel, and user selectable priority channel.
Front Panel Programming
The feature enables easy access to customise radio parameter settings to fit user needs.
Over-heating Protection
In case of long time transmission at high power, the TM-800 series will automatically switch to low output power to avoid radio over-heating.
UST (User Selectable Tone)
User can select CTCSS/CDCSS codes via the programmed function key. Each stored UST code can be assigned with a customised name for convenient operation.
DTMF Function
Functions include DTMF ANI, DTMF flexible dialling: manual dial, redial, short number dial, and auto-dial; maximum 32 groups of DTMF encode can be stored and each can be assigned with a customised name. DTMF calling provides individual & group call and over-the-air transmit inhibit/stun/revive/kill functions. When DTMF call is received, there's an audible-visual alert. DTMF PTT ID or alias could be displayed on the LCD to identify the transmitter.
Built-in Modem
The built-in 1200/2400bps MSK modulator offers data transmission function.
Emergency Siren
In case of emergencies or accidents, this feature lets you transmit discreetly signals to the control centre or a pre-defined person for emergency help.
*Only for 2-Tone version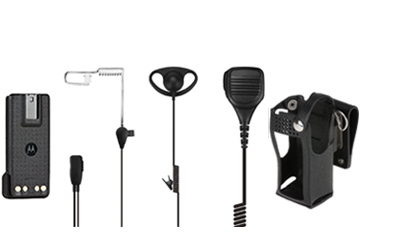 ACCESSORIES
Leversedge stock a comprehensive range of genuine manufacturer accessories for this radio, including:
> Antenna
> Batteries
> Carrying Solutions
> Chargers & Conditioners
> Ear Microphones
> Miscellaneous Accessories
FOR FURTHER INFORMATION CONTACT OUR SALES TEAM ON:
+44 (0)116 262 6166
Alternatively you can complete the contact form below.
SIGN UP TO OUR MAILING LIST