DISCOVER WHAT LEVERSEDGE CAN DO FOR YOU…

HYTERA TC620 SERIES PORTABLE TWO-WAY RADIO
Incorporating cutting-edge technology, Hytera's TC-620 is the option customised for users in property management, hotel and service industries. In addition to the versatile functionality, superior audio clarity and strong penetrability easy operation and high performance-to-price ratio characteristics, the innovative and ergonomic design makes the TC-620 satisfy users' requirements for communication.
Superior Audio and Wide Communication Range
A powerful speaker with a diameter of 40mm ensures clear, crisp and strong audio, even in noisy environments.
High transmit power accommodates wide communication coverage. Even if you are in lift, basement or building, the TC-620 will bring you prompt and reliable communication.
Durable and Reliable
The radio housing is made of PC+ABS for increased durability. Versatile protections including the protecting rim beside the volume control knob, and the supporting point beside the antenna help to minimise damage to the radio in case the radio drops.
LED Battery Gauge
Non-display radios generally have no battery power indicator. The TC-620 allows you to simply press one button to illuminate the tri-colour LED battery gauge, which indicates battery strength levels for more effective power management.
Advanced Speaker Protection Technique
Traditional radios only adopt a common dust & water protection mesh to seal out dust and water. However, the common grill cloth can not withstand the impact from hard substances such as iron nails, thin sticks, etc. To solve the problem, a protecting steel mesh is added to the TC-620 radio to effectively protect the dust & water protection mesh and the speaker.
High/Low Power Switchable
By simple pressing one button, users can switch to low power when communicating within limited range coverage or switch to high power when further distance is required. High transmit power optimises range coverage while low transmit power conserves battery consumption, all at the user's control.
Programmable 12.5kHz / 25kHz Channel Spacing
The feature enables flexibility and easy migration of channel spacing requirements when the need arises, with no need to buy new radios.
Monitor
Allows users to monitor the activity on the current channel. The feature is especially helpful for receiving a weak signal.
Battery Save
The Battery Save feature is automatically activated once no activity on the channel and no operation performed, for extended operation time.
Low Battery Alert
Recharge the battery should the battery level run low.
Busy Channel Lockout
A channel already in use is not available to other users.
Time-out Timer
The feature allows for more efficient use of channels by limiting the amount of time of each transmission.
PC Programmable
You are able to customise the features of each radio for each user.
Wired Clone
Easily copy the features of one radio to another.
CTCSS/CDCSS
Set up workgroups/users with unique CDCSS/CTCSS to prevent unwanted conversations on the same frequency.
Selectable Squelch Level (1-9)
Helps minimise interference from undesired weak signals and helps weak signals be heard.
Channel Scan
The channel scan feature enables the radio to continuously scan each channel in the scan list for activity. Simply press a side function button to activate scanning. When activity is detected on a channel the scan process will stop and you will hear the transmission.
Voice Operated Transmit (VOX)
Enjoy the convenience of hands-free operation when used with optional accessories.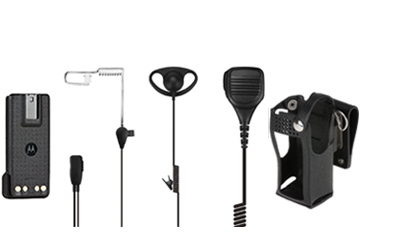 ACCESSORIES
Leversedge stock a comprehensive range of genuine manufacturer accessories for this radio, including:
> Antenna
> Batteries
> Carrying Solutions
> Chargers & Conditioners
> Ear Microphones
> Miscellaneous Accessories
FOR FURTHER INFORMATION CONTACT OUR SALES TEAM ON:
+44 (0)116 262 6166
Alternatively you can complete the contact form below.
SIGN UP TO OUR MAILING LIST