DISCOVER WHAT LEVERSEDGE CAN DO FOR YOU…

MOTOTRBO™ SL4000/4010 PORTABLE TWO-WAY RADIO
From the concierge desk to the convention centre, MOTOTRBO SL4000 Series keeps you instantly connected and in control. So incredibly thin and light, the SL4000 Series is the ultimate in discreet communications. Versatile and powerful, the MOTOTRBO SL4000 Series portable radio is designed to meet the communication needs of customers in the hospitality, services, security and airport industries. Weighing as little as your average smartphone, its slim design and forward-thinking features such as Intelligent Audio, integrated Bluetooth and covert mode, enhance your level of professionalism and discretion so you can provide superior customer service and faster response times.
With the MOTOTRBO SL4000 Series, Motorola have remastered digital two-way communications and redefined everything you expect radio to be. Our expanded and complete portfolio of MOTOTRBO portable radios, mobile radios, repeaters, accessories, data applications, software and services can transform your enterprise. And empower your people with clearer voice, real-time data and discreet communications so they can collaborate like never before. For total peace of mind, Service from the Start is also available for all your repair needs, That's Digital Remastered.
Exceptionally Intuitive, Full Colour Display
Features an enhanced 5-line display with a flexible menu-driven interface. Built-in photosensor intuitively adjusts backlighting on the screen to optimise viewing even in broad daylight. Night mode makes the screen easier to read in dark environments.
Productivity-enhancing Data Applications
Features the industry's largest application developer program that offers customised data applications tailored to your business needs: location tracking, work order ticket management, Bluetooth data, email gateways, dispatch, telephony and man-down.
Best-in-class Audio
Loud front-facing speaker, plus unique features such as Intelligent Audio and Voice Announcement to help you hear and speak clearly wherever your employees work.
Covert and Discreet When It Counts
Make discreet communications easier; covert mode turns off the display, visible LEDs and audible tones. Vibrate alert is another option for discreet communications.
Expand Capacity and Coverage
Experience the far-reaching coverage of MOTOTRBO. IP Site Connect uses the Internet to extend coverage to create a wide-area network, while Capacity Plus single-site trunking expands capacity to over 1000 users.
Freedom to Move Around
Experience convenient communications with Bluetooth audio embedded in the radio. Take advantage of Motorola's unique Operations Critical Wireless earpieces designed for easy, reliable wireless communications.
Share Information Instantly with Bluetooth Data
Connect wirelessly to Bluetooth data devices making it easy to share information real-time.
Increased Efficiency with Work Order Ticket Management
Read and respond to work order tickets at a glance and keep your business running efficiently.
Flexible and Easy Text Messaging
Use text messaging when discretion is required or routine communication needs to be delivered without interrupting workers or guests
Service from the Start
Service from the Start is the industry-leading service offering provided by Motorola to ensure your radios are protected against normal wear and tear, accidental breakage, and more. Each package comprises of efficient turnaround times, expert telephone technical support and access to the latest software releases; all backed by our global infrastructure, highly qualified support technicians and certified repair facilities.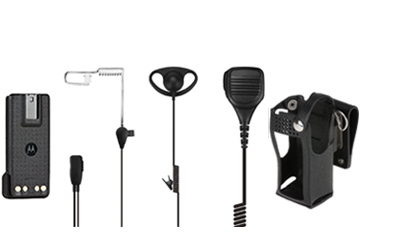 ACCESSORIES
Leversedge stock a comprehensive range of genuine manufacturer accessories for this radio, including:
> Antenna
> Batteries
> Carrying Solutions
> Chargers & Conditioners
> Ear Microphones
> Miscellaneous Accessories
FOR FURTHER INFORMATION CONTACT OUR SALES TEAM ON:
+44 (0)116 262 6166
Alternatively you can complete the contact form below.
SIGN UP TO OUR MAILING LIST