DISCOVER WHAT LEVERSEDGE CAN DO FOR YOU…

MOTOTRBO™ DP4000e SERIES PORTABLE TWO-WAY RADIO
With this dynamic evolution of MOTOTRBO digital two-way radios, you're better connected, safer and more productive. The DP4000e Series is designed for the skilled professional who refuses to compromise. With high-performance integrated voice and data, and advanced features for efficient operation, these next-generation radios deliver complete connectivity to your organisation.
Here's what's new in these next-generation radios:
• Integrated accelerometer for optional Man Down (DP4401e, DP4601e, DP4801e)
• Bluetooth® 4.0
• Indoor location tracking
• Integrated Wi-Fi®
• Over-the-air software updates
• Enhanced audio quality
• Improved expandability
• Better battery life (up to 28 hours)
• Better range (up to 8%)
• Better waterproofing (IP68)
The DP4000e Series includes:
DP4801e
DP4800e
DP4601e
DP4600e
DP4401e
DP4400e
Connected
The MOTOTRBO DP4000e Series is a family of ETSI DMR Standards compliant digital radios that delivers operation-critical voice and data communications. Bluetooth® audio lets you talk without wires, integrated Wi-Fi® enables remote software upgrades and indoor and outdoor location- tracking capabilities give you total visibility of your resources. With support for trunking as well as legacy analogue technology, you can keep your organisation connected as it grows.
Productive
Text messaging and Work Order Ticketing simplify complex communications, and data capabilities support advanced applications. Featuring a powerful audio amplifier, these radios deliver loud, clear speech, with industrial noise cancellation for better intelligibility. The latest energy technology delivers up to 28 hours of battery life for 3-shift working, and an improved receiver boosts range by up to 8%.
Safe
Safeguard your staff with responsive push-to-talk technology.The prominent orange emergency button on DP4000e Series radios summons help with one touch, using Transmit Interrupt to clear a channel when necessary. An integrated accelerometer senses if you've fallen and can automatically call for assistance (DP4401e, DP4601e, DP4801e). The radio is tested to tough military standards and is waterproof to IP68. It won't let you down.
Service from the Start
Service from the Start is the industry-leading service offering provided by Motorola to ensure your radios are protected against normal wear and tear, accidental breakage, and more. Each package comprises of efficient turnaround times, expert telephone technical support and access to the latest software releases; all backed by our global infrastructure, highly qualified support technicians and certified repair facilities.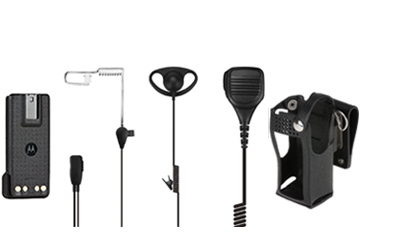 ACCESSORIES
Leversedge stock a comprehensive range of genuine manufacturer accessories for this radio, including:
> Antenna
> Batteries
> Carrying Solutions
> Chargers & Conditioners
> Ear Microphones
> Miscellaneous Accessories
FOR FURTHER INFORMATION CONTACT OUR SALES TEAM ON:
+44 (0)116 262 6166
Alternatively you can complete the contact form below.
SIGN UP TO OUR MAILING LIST