DISCOVER WHAT LEVERSEDGE CAN DO FOR YOU…

MOTOTRBO™ DP3441 PORTABLE TWO-WAY RADIO
You have to be agile while you stay connected. You need an unobtrusive radio that's tough enough to handle workplace abuse, but doesn't get in your way. Now there's an extra-small portable that gives you all of that, plus all the advanced features of digital technology to elevate communications in your business.
Versatile and powerful, MOTOTRBO combines the best of two-way radio functionality with the latest analogue and digital technology. The MOTOTRBO portfolio gives you the right device for the right user, from voice-only portables to feature-rich voice and data radios.
Incredibly compact and exceptionally rugged, the MOTOTRBO DP3441 is the perfect solution for the professional on the move. It integrates voice and data seamlessly, offers enhanced features that are easy to use, and delivers business-critical advantages like integrated Bluetooth® and Intelligent Audio.
The DP3441 fits comfortably in your hand, so you can carry it easily. Place it on your belt in its custom carry holster and move freely while you stay light on your feet. It is loaded with all the benefits of the latest digital technology – superb audio quality, amazing clarity, outstanding coverage, long-lasting battery life and more.
VHF (136-174MHz); UHF1 (403-527MHz)
32 channels
Compact and rugged form factor
Large, textured push-to-talk button for ease of use
2 programmable buttons to improve ease of use and increase operator efficiency
Tri-colour LED for clear visual feedback on radio operating status
Emergency button to help ensure rapid response to critical incidents
Quick, easy-to-use Group, Individual and All-call capability
Digital Phone Patch capability
Sophisticated Emergency Calls help ensure employee safety
PTT ID helps improve communications efficiency and system discipline
Remote Monitor features help ensure employee safety and enable fast assessment of remote user status
Elegant channel scanning schemes help ensure calls are received first time every time
Privacy Features
VOX Capability
Transmit Interrupt
Lone Worker
Over the Air Programming (OTAP)
5 Tone Signalling
Option Board Capability
Intelligent Audio allowing the radio volume to automatically adjust to compensate for background noise
IP67 environmental sealing helps ensure continued operation in tough working conditions
IP Site Connect (Conventional Multiple Site Coverage)
Capacity Plus (Single Site Trunking)
Linked Capacity Plus (Multi Site Trunking)
Service from the Start
Service from the Start is the industry-leading service offering provided by Motorola to ensure your radios are protected against normal wear and tear, accidental breakage, and more. Each package comprises of efficient turnaround times, expert telephone technical support and access to the latest software releases; all backed by our global infrastructure, highly qualified support technicians and certified repair facilities.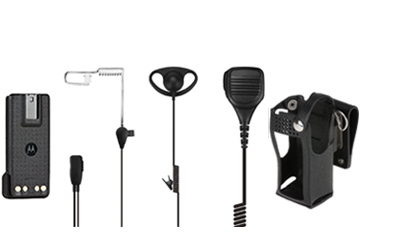 ACCESSORIES
Leversedge stock a comprehensive range of genuine manufacturer accessories for this radio, including:
> Antenna
> Batteries
> Carrying Solutions
> Chargers & Conditioners
> Ear Microphones
> Miscellaneous Accessories
FOR FURTHER INFORMATION CONTACT OUR SALES TEAM ON:
+44 (0)116 262 6166
Alternatively you can complete the contact form below.
SIGN UP TO OUR MAILING LIST