DISCOVER WHAT LEVERSEDGE CAN DO FOR YOU…

MOTOROLA CLP446 LICENSE FREE BUSINESS TWO-WAY RADIO
CLP combines comfort, durability and simplicity in a sleek design. Designed for the retail and hospitality markets, CLP446 operates on 8 channels with a choice of 219 codes for increased privacy and reduced interference. This palm-sized device redefines the traditional two-way radio by including only essential elements. An embedded antenna gives it a sleek shape. A large central push-to-talk button makes CLP easy to operate. And a variety of accessories offers multiple wearing options. CLP was designed with the user in mind, helping you communicate seamlessly and naturally in your business environment.
Flexible choice of frequencies
Operates on 8 PMR446 channels.
Radio Model
8 channels

Customer Programming Software
Customise radio settings via your PC.
Battery versatility
Choose from standard or high capacity rechargeable lithium ion batteries.
Smart Status Glow
Colour indicates active channel, radio transmit & receive, scan and battery status.
Voice Assisted Operation
Voice driven menu provides access to channel, monitor, scan and call tone.
Long battery life
Rechargeable lithium ion batteries provide up to 14 hours of battery life.
Headset
Earpiece is required and provides discreet communications.
Antimicrobial Protection
Helps to prevent the growth of mould and germs on the surface of the radio.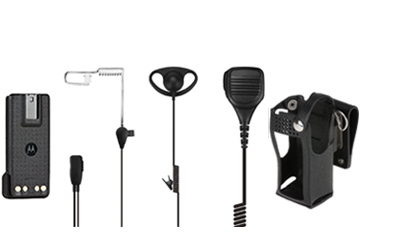 ACCESSORIES
Leversedge stock a comprehensive range of genuine manufacturer accessories for this radio, including:
> Antenna
> Batteries
> Carrying Solutions
> Chargers & Conditioners
> Ear Microphones
> Miscellaneous Accessories
FOR FURTHER INFORMATION CONTACT OUR SALES TEAM ON:
+44 (0)116 262 6166
Alternatively you can complete the contact form below.
SIGN UP TO OUR MAILING LIST