DISCOVER WHAT LEVERSEDGE CAN DO FOR YOU…

KENWOOD TK-D240 / D340 PORTABLE TWO-WAY RADIO
Ergonomically styled yet tough enough to comply with both MIL-STD and IP54/55 environmental standards, these portables provide the features and performance needed for a wide range of workplaces – from warehouses and stations to shops and hotels. As well as handling both analogue and digital communications, these user-friendly DMR radios can even operate in direct mode, without a repeater. They also offer such KENWOOD added value as Call Interrupt and 1-watt audio output. These truly resourceful team members will enable you to make the most of your legacy analogue equipment while also benefitting from digital communications.
Two-slot TDMA
Belonging to the DMR Tier II category, which covers licensed conventional systems, these radios are specified for 2-slot Time Division Multiple Access (TDMA) operation in 12.5 kHz channels. This means they can offer greater spectrum efficiency.
Two-in-One – Digital & Analogue
These DMR radios can operate in both digital and FM analogue modes, switching automatically as needed. Interoperability with legacy analogue radios allows organisations to migrate to full digital at their own pace.
Dual-slot Direct Mode
Up to two simultaneous subscriber calls can be supported in a 12.5 kHz channel, without requiring a base station or repeater, thus doubling channel capacity.
Call Interruption
In an emergency or whenever a user needs to interrupt a call, Call Interruption is available in both direct and repeater modes, while encoding or decoding. There is also a Lone Worker function to protect employees working alone.
Tough All-terrain
These portable radios conform to MIL-STD C/D/E/F/G standards for ruggedness, and are IP54/55 rated for water & dust intrusion, making them more than capable of withstanding harsh operating conditions.
Longer Battery Life
Battery life is always important for radio users. Both Lithium-ion and Ni-MH rechargeable batteries are available. Regardless of battery type, operating hours are longer in digital mode.
Clear, Powerful Audio
A radio's most important quality is clarity – being able to hear, loud and clear, what the other party is saying. And these portables deliver just that. For a start, there is 1 W of audio output power, while the AMBE+2™ VOCODER technology accurately replicates natural human speech nuances for superior voice quality, even with high levels of ambient noise. Additionally, Voice Announcement can confirm the channel number, so there is no need to look at the display. English is the default language, but Spanish, French, German, Italian, Dutch and Russian are also available.
5-Tone Signalling
A series of programmed audio tones are used to specify one or more radios to initiate a conversation; all other radios will remain muted. Several standard signalling formats are available.
Slim Styling
Compact form with ergonomically stylish design make these radios easy to grip and operate.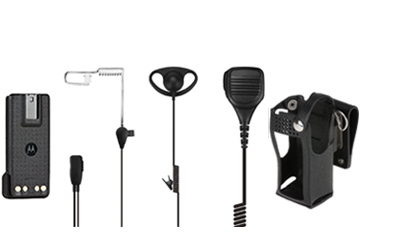 ACCESSORIES
Leversedge stock a comprehensive range of genuine manufacturer accessories for this radio, including:
> Antenna
> Batteries
> Carrying Solutions
> Chargers & Conditioners
> Ear Microphones
> Miscellaneous Accessories
FOR FURTHER INFORMATION CONTACT OUR SALES TEAM ON:
+44 (0)116 262 6166
Alternatively you can complete the contact form below.
SIGN UP TO OUR MAILING LIST