DISCOVER WHAT LEVERSEDGE CAN DO FOR YOU…

ICOM IC-F51V / F61V PORTABLE TWO-WAY RADIO
While keeping the dust-tight, waterproof construction and compact style of the original IC-F51 series, the IC-F51V/F61V has additional features including BTL amplifier, vibration alert, voice recorder and lone worker functions. These combined features open up the market for this product to the emergency services who need to use the radio as a radio pager with voice recorder and vibration alert functions, security companies that need lone worker and voice recorder functions and Industrial users who work in very noisy environments and need loud audio with the BTL amp and vibration alert functions.
700mW AF power with BTL amplifier
The IC-F51V/F61V uses a BTL (bridge-tied load) amplifier that doubles the audio output, delivering 700mW of loud audio*.
*Internal speaker only.
Vibration alert function
When a pre-programmed 2-Tone/5-Tone signal, called by a specified ID user (BIIS mode only) or a status message (BIIS mode only) is received, the vibration alert function alerts you by vibrating the radio. The vibration patterns are also programmable (4 patterns x one time/repeat).
Max. 8 minute voice recorder
The built-in the voice recorder records incoming calls up to a maximum of 8 minutes. When a specified 2-tone/5-tone signal or called by a specified ID (BIIS mode only) is received, the voice recorder automatically starts recording the message. You will not miss any important messages even when you are temporarily away from the radio. The recorded message will be preserved even when the radio is turned off. If you have a new message, the radio shows ¡§ *¡¨ icon on the display.
Lone worker function
The lone worker function is a substitute for the man down function. When the radio is not operated for a preset period (1 to 255 minutes), the radio sounds a beep and requires the user to push the emergency button. If the emergency button is not pushed for a preset time, an emergency signal is automatically transmitted and informs your co-workers or controller that something may have happened.
Enhanced scanning features
New scanning features have been added allowing easier migration from other brand radios to Icom radios.
Scanning list and scanning type
The IC-F51V has 17 scanning list memories. Each scanning list consists of memory channels to be scanned and scanning type settings. Scanning type settings are selectable from normal scan or priority scans. The priority scan allows you to monitor one or two priority channels, while scanning other channels.
Mode slave scan
In the regular mode scan, you can select a scanning list independent to the channel setting. However, in the mode slave setting, the scanning setting is dependent on the operating channel. When you change the operating channel, the scanning list automatically changes to that channel setting. It is convenient when you move to a different operating area and change an operating channel, you don't have to change the scanning setting.
Tx channel setting
The Tx (Transmit) channel is the channel selected when you push the PTT button while scanning. It can be programmable per scanning list. The start channel, last detected channel, priority and pre-programmed channel are selectable. In addition, display setting while scanning is also programmable.
Talk back function
The talk back function allows you to transmit on the channel detected when scanning stops or scanning resumes after a preset time, prior to the Tx channel setting. The talk back timer beep alerts you of the end of the talk back time with a beep sound. You can easily make a quick response with this function.
Nuisance delete: You can temporarily delete a busy channel from the scanning list.
Monitor key action: You can stop a scan when pushing the monitor button.
Backlight at Stop Scan: Automatically turns on the LCD backlight when the scan stops.
VOX headsets available
When used with one of the optional headsets* HS-94, HS-95 or HS-97 with VS-1SC* PTT switch box, the IC-F51V/F61V automatically detects your voice and transmits it.
*These headsets and VS-1SC are splash resistant equivalent to IPX4.
IP67, dust-tight and water-proof construction
The IC-F51V/F61V has IP67 protection against dust and water. The IC-F51V/F61V can withstand submersion in 1m depth of water for up to 30 minutes and has dust-tight construction that prevents the ingress of dust.
Built-in inversion type voice scrambler
The IC-F51V/F61V has a built-in inversion type* voice scrambler which provide securer conversation.
*The inversion type voice scrambler is not compatible with UT-109/UT-110 type voice scrambler.

Improved micro filter material
New micro filter material covers the microphone element allowing penetration of clean air while shutting out water and dust to provide a less muffled transmit voice.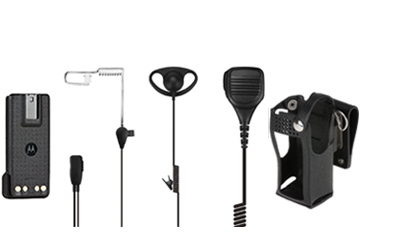 ACCESSORIES
Leversedge stock a comprehensive range of genuine manufacturer accessories for this radio, including:
> Antenna
> Batteries
> Carrying Solutions
> Chargers & Conditioners
> Ear Microphones
> Miscellaneous Accessories
FOR FURTHER INFORMATION CONTACT OUR SALES TEAM ON:
+44 (0)116 262 6166
Alternatively you can complete the contact form below.
SIGN UP TO OUR MAILING LIST