One of the most demanding working environments in the UK is now benefiting from a new Icom IP Advanced Radio system installed by two way radio provider, Leversedge Telecom. British Gypsum, the UK's leading supplier of internal wall and ceiling systems is the latest organisation to adopt Icom's IP advanced radio technology. Such has been the success of the system, is that it is now being rolled out in British Gypsums five other mines throughout the UK.The initial enquiry came from Simon Mills, Mines Planning Engineer of British Gypsum for the East Leake mine in Leicestershire which has a mining capacity of 400,000 tonnes per annum with remaining reserves for 10 years. After discussions into the company's requirements, Icom UK IP Partner Leversedge Telecom visited the East Leake mine with engineers from Icom. Icom's IP radio system was trialled using the mines existing WLAN network and even though it had to cover 8km of tunnels, it gave 100% coverage.
The site now uses a full IP radio system that operates on the mines current wireless LAN (WLAN). The system utilises a network controller and fifty IP100H remote communicators/handsets that not only provides secure conversation but contributes to the company's health and safety objectives.
Due to the nature of work at the face of the mine, British Gypsum also required a conventional digital radio solution. With the extended coverage and the face of the mine always moving they opted for a rugged digital hand portable. Icom UK and Leversedge Telecom provided a rapidly deployable repeater housed in a peli case to bridge the communication technologies. This included an IC-FR6100 UHF digital repeater and IC-F4102D Digital UHF hand portables.
Simon Mills of British Gypsum said, "we had a wide area to cover and needed to maintain communication coverage with all employees for operational and health and safety reasons. If people aren't communicating, it is a big problem especially if people are driving about.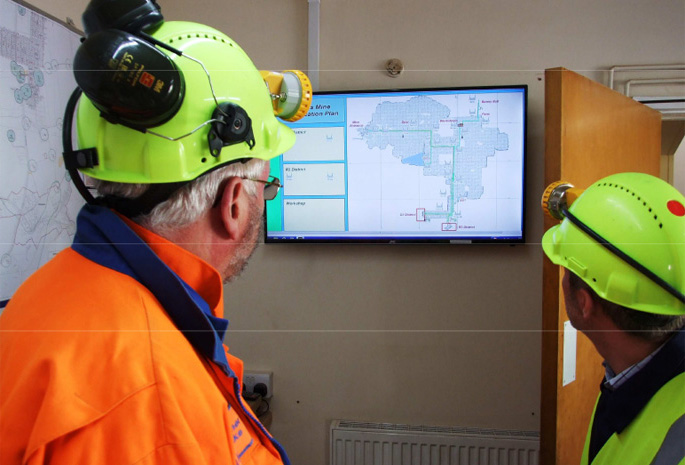 Richard Jaworski, Sales Director of Leversedge Telecom said, "The system we had was very old and obsolete and we could no longer support it. The options were to either replace it with a full radio system with repeaters and leaky feeders with large capital outlay or try something new that could bolt onto a system that we already had in place."
We initially looked at analogue and digital radio systems which would give us two channels but this new system gave us several advantages such as the multiple simultaneous calls which were a major advantage. The ability to track people was a major consideration because we have a duty under health & safety law to have good communications in the event of an emergency. The idea is that everyone has to have a radio. The radios are used by all those who enter the mine including miners, contractors and are used to keep the mine operators safely in its day to day operations.
As to the performance of the scheme, Simon said, 'Battery life is brilliant and the handsets are robust. The clarity of the call is first class, especially over the distance that it covers underground. Essentially the system has done everything we asked of it and are very pleased."
To find out more about the Icom Advanced Radio System, call the Leversedge team on: (0)116 262 5116