DISCOVER WHAT LEVERSEDGE CAN DO FOR YOU…
Transcan Rigid Temperature Data Logger

Providing clear, precise and meaningful temperature data to protect your products integrity when it matters most.
Up to 4 Sensors
Integral Printer
Up to 4 Switches
Temperature Display
512Kb Internal Memory
Exterior Mount
Alarm Capability
What's in the box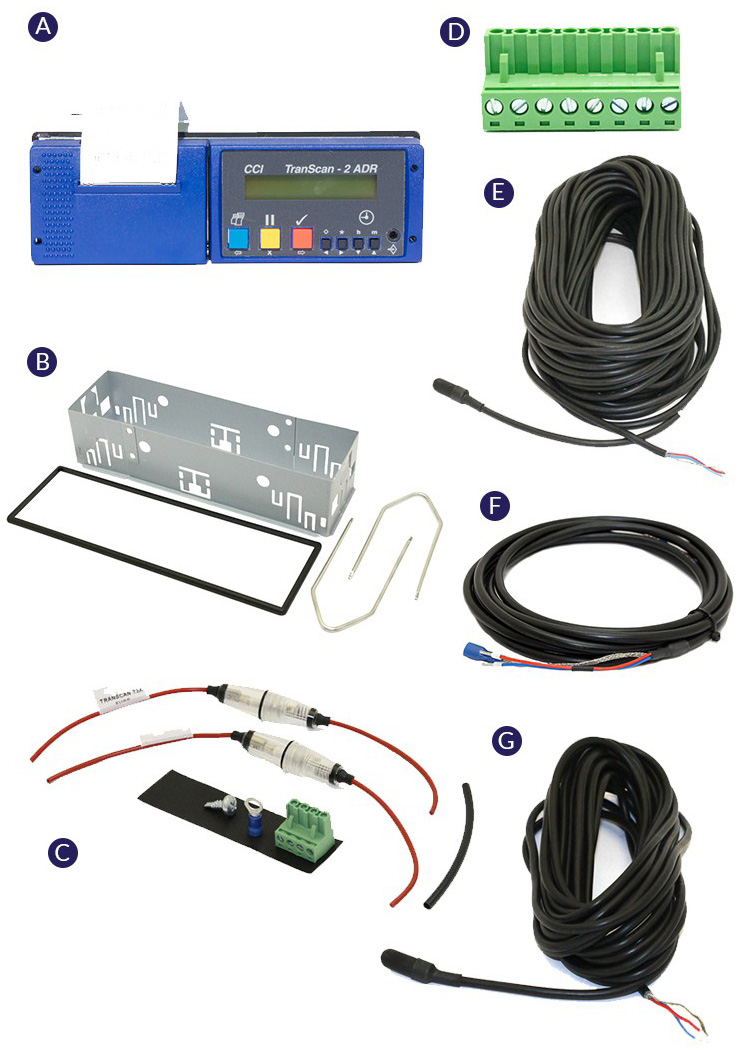 A. TS2R/4: RIGID MODULE
B. KL-1246: MOUNTING KIT RIGID (CAGE)
C. KL-1523: CABLE ACCESSORIES (POWER 20mm)
D. PS-0258: Connector 8-Way
E. PS-0200/18-S: Probe Air 18 Metre Screened
F. DE-1399: CABLE ASSEMBLY (POWER) FOR RIGID OR CAB 3m
G. PS-0200/18-S: PROBE AIR 18 METRE SCREENED
Easy
For reliable cost effective monitoring and recording choose Transcan 2 ADR, the industry standard Temperature Recorder incorporating the unique ADR (Automatic Daily Recording) System. The TranScan 2 now includes a host of features designed to make the easiest to use temperature recorder EVEN EASIER.
Certified
TranScan 2 recorders have been type tested and approved against the EN 12830 norm for vehicle temperature recording systems and are certified as a Class 1 device.
This is the highest classification of performance that can be awarded. Additionally, TranScan 2 recorders have met the requirements of the German interpretation of the EEC directive 92/1/EWG and have received certification by the German Test House TUV Bau-und Betriebstechnik.
Multi Lingual
TranScan 2 recorders include the facility to select the operating language (English, French, German, Spanish, Italian Portuguese, Polish or Dutch) with a unique in-built HELP system, this makes Transcan the only multi language self-documenting temperature recorder.
Inputs & Probes
TranScan 2 supports up to 4 separate temperature inputs from precision NTC thermistor sensors. Each input is characterised for operation between -45C and + 50C. You can also add up to 4 switch inputs such as door switches, defrost, fridge on/off or alarms.
Sensors are available with cable lengths up to 18 metres and are fully interchangeable. To comply with the requirements of the UK Food Hygiene Amendment Regulations each Transcan thermistor sensor has a dampened thermal response (T90 of approximately 8 minutes).
Optional product probe temperature sensors are available in two formats. An Insertion Probe which is rounded with a semi-pointed end, normally used for direct insertion into products such as meat carcasses, and a Between Pack Probe which is flattened to allow introduction between boxes or cartons of food
Product probes have a faster response time than air temperature sensors (T90 of approximately 1 minutes) and are advantageous for operators of multidrop delivery vehicles where air temperature sensing alone may not provide a meaningful indication of product temperature.


Click on the links below to learn more about the Transcan Temperature Data Loggers.
Transcan® Trailer Temperature Data Logger
> Discover more about Transcan Trailer Temperature Data Logger
Transcan® Cab Temperature Data Logger
> Discover more about Transcan Cab Temperature Data Logger
Transcan® Rigid Temperature Data Logger
> Discover more about Transcan Rigid Temperature Data Logger
Transcan® Pharma+ Temperature Data Logger
> Discover more about Transcan Pharma+ Temperature Data Logger
FOR FURTHER INFORMATION CONTACT OUR SALES TEAM ON:
+44 (0)116 262 6166
Alternatively you can complete the contact form below.
SIGN UP TO OUR MAILING LIST